Attendance Management
iRujulHRMS automates the attendance processes by generating log files for all employees. The log files keep track of your employees, when they come in, go out and when they take breaks. The records of daily/monthly attendance are taken from third party logging systems integrated with all consistency. Easily transfers the attendance records to admin, leave and payroll modules, minimizing manual reconciliation of employee payrolls. Also, allows you to create shifts and assign them to branch, department or employees.
Offers huge relief, with powerful features:
Add manually or Import using Excel
Real Time Attendance Report
Archived Reports
Categorization of workforce working overtime, from home, outdoor visits, and early leaves.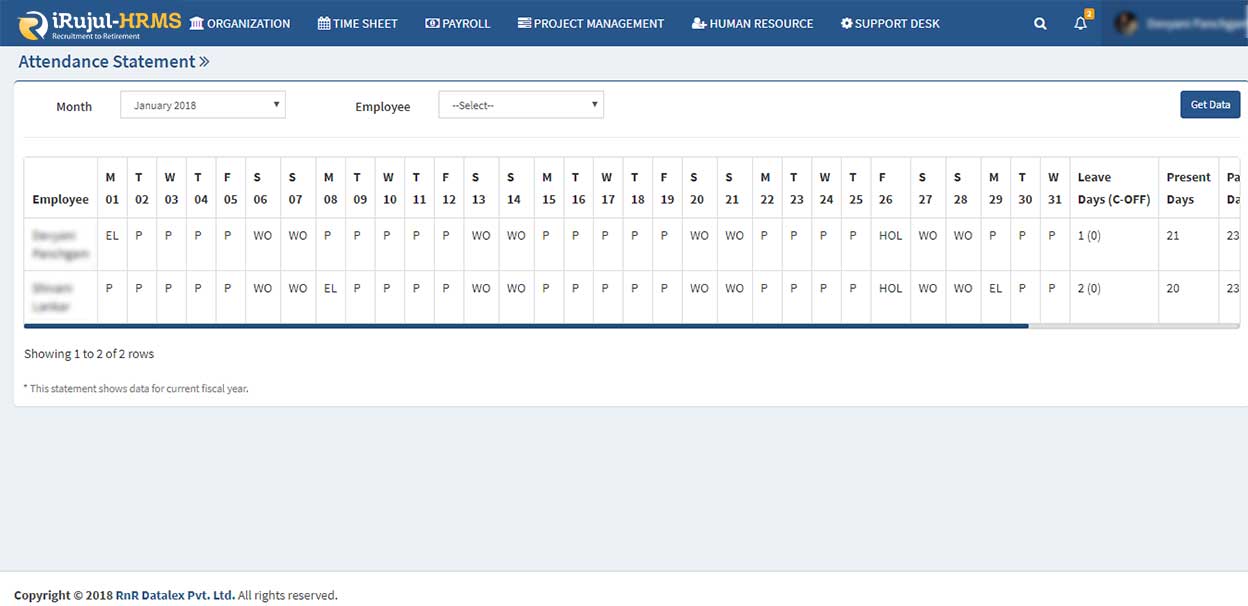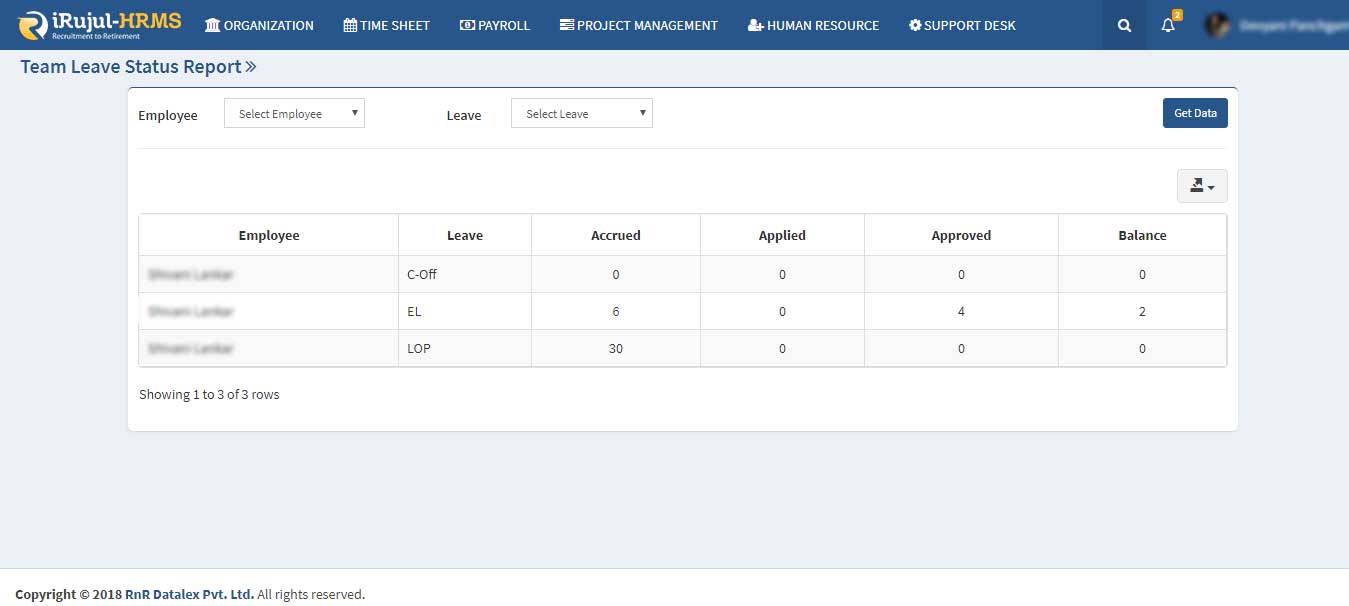 Leave Management
Employers can update leave policies, set new rules & criteria for eligibility of different types of leaves and approval systems. Allows employees to access the information about leave details, including leave balances, leave history and earnings. Thus, eliminating confusions and potential conflicts. And the comprehensive reports gives you the complete history of leave usage for each employee.
Reduced workload with amazing features:
Easy to configure & track.
Leave encashment and carry forward.
Follow a hierarchy.
Know your bench strength and plan accordingly.
Effective insights to employee leave reports.
No loss in pay calculation.
Payroll
It is an integral yet dependent part of any HRMS software. In iRujulHRMS you get a rule based payroll system which automates the entire payroll processing & calculations for net & gross, income tax, pf, incentives, loans and much more.
We understand even a silly mistake in payroll may give a severe fall in the employees count. And thus, iRujulHRMS cuts down the older form of manual errors and provides accurate & efficient data as personalized for your company salary structures.
Fully customized feature set which gives leverage to:
Define your payroll scales.
Print and Email Pay slips to employees.
Calculations based on user defined formulae.
Track all payments for financial records.
Generate and confirm your Payrolls.
Includes increments, travel, arrears and much more.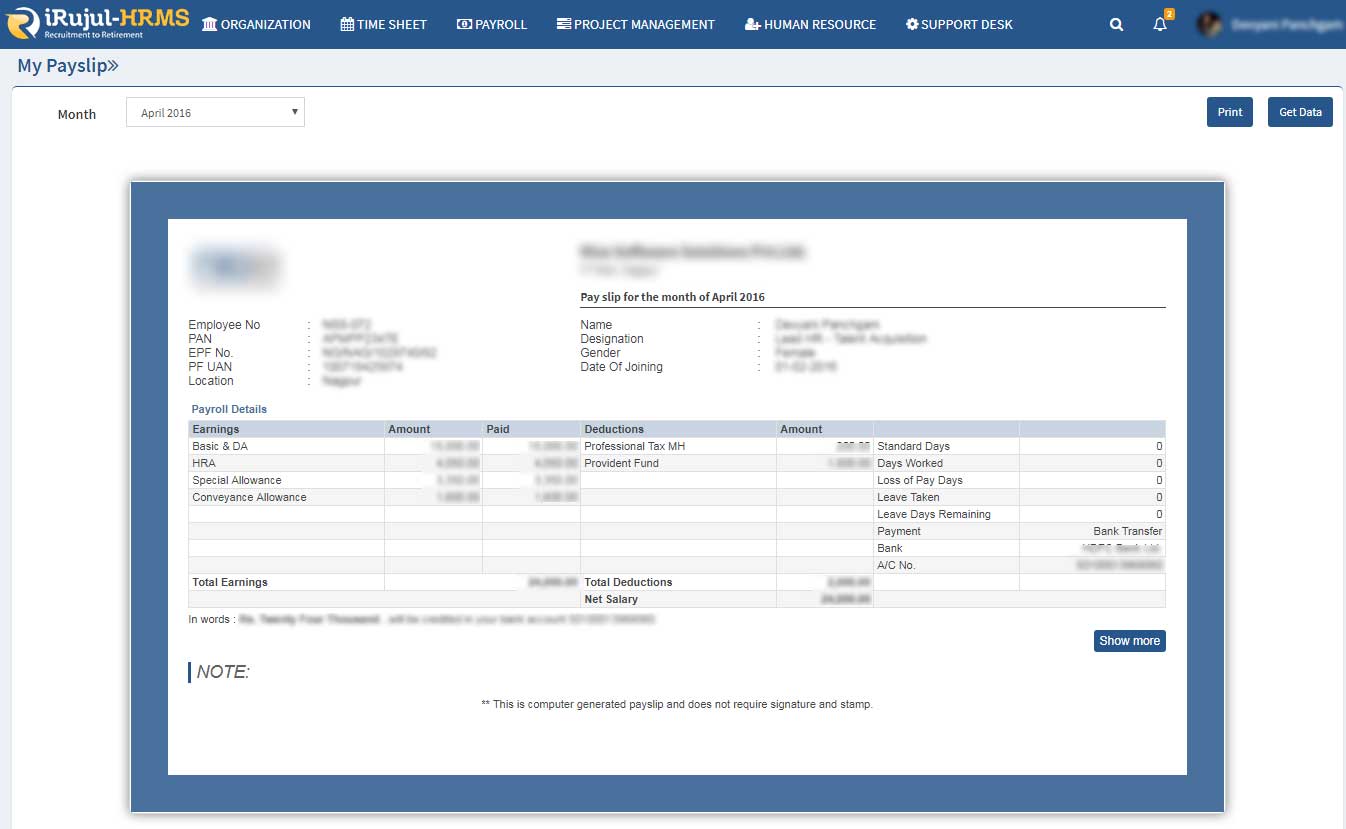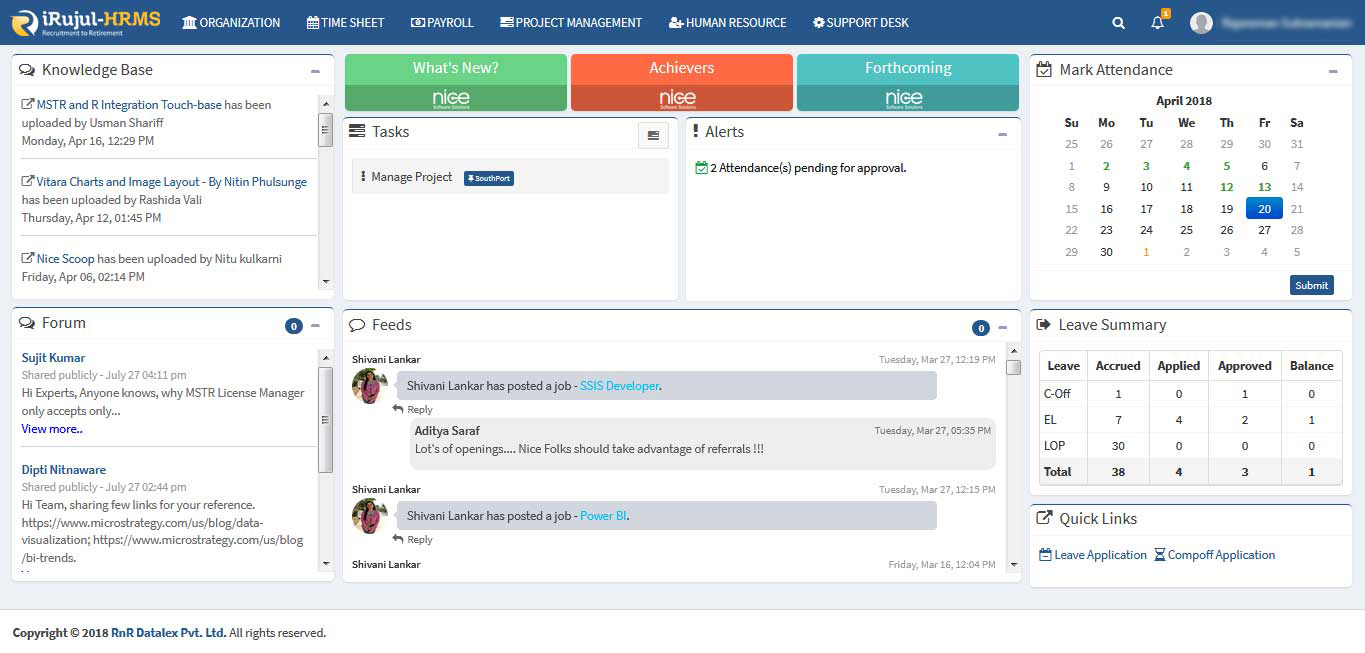 Employee Self Service Portal
Allow your employees to reach you, access real time information and handle requests & approvals with ease. Keeps your employee informed and updated about their Position, Performance, Projects and Pay scale. It reduces overhead of your HR Personnel and provides a modern way to get smarter insights of employee collaboration and activities in the organization.
Self-service help you save time with features like:
Holiday Calendars
Payroll
Announcements
Incentives
Attendance
Reimbursements
Leaves
Referrals
Requisitions
Projects
Permissions
Tasks & Status
Company Policies
Procurement
HR Policies
Recruiting and on-boarding options
This module helps recruiters manage the candidate information & their journey from application to appointment. The actual hiring process goes slow with the flow of requirement and thus, maintaining interview candidate records is of prime importance for best talent acquisition.
Streamlining the process includes setting up human resource panel, automating tasks, sending alerts & communications, scheduling and tracking interviews and iRujulHRMS exactly do all this for you in just few clicks. Interview feedbacks are kept as centralized repository for all panel members to reduce the bottlenecks & progress the application faster.
No more struggle while hiring new talents:
Post the job as the need arise.
Employee Referral Schemes
Analyze and Screen candidate applications.
Employee Documents
Schedule and Track Interviews through stages.
Email Alerts & Reminders
Maintain Candidate Records.
Multi-level Approvals
Thorough & Precise Reporting with Analytics.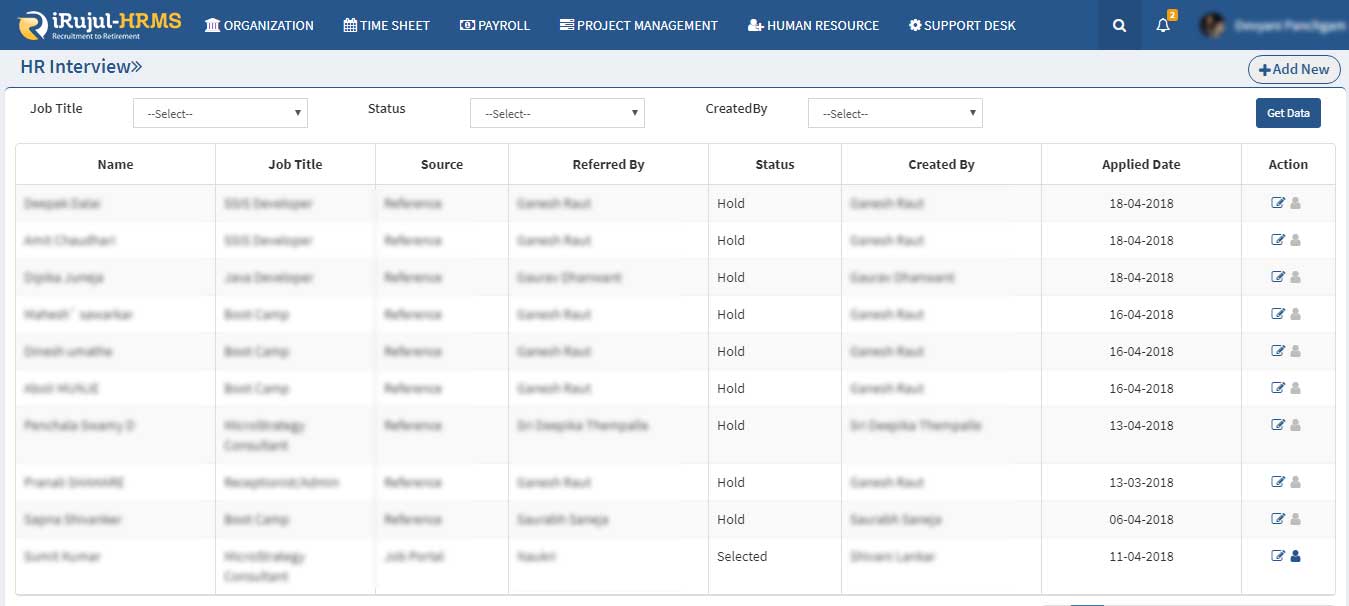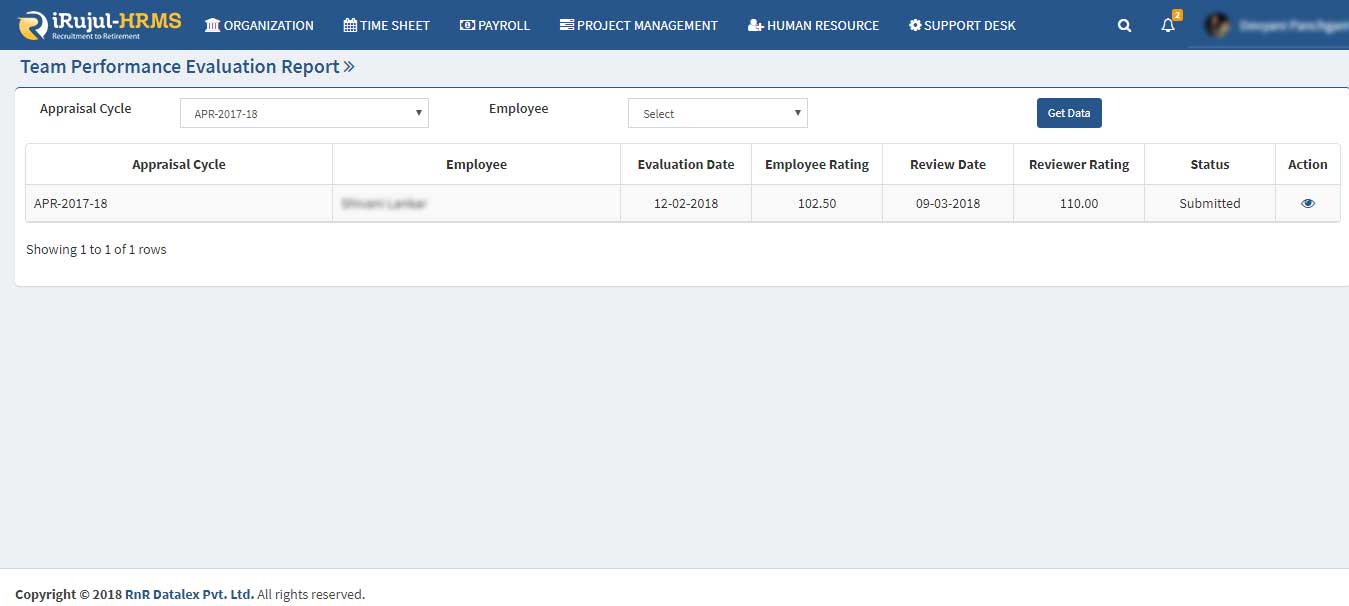 Performance Evaluation
Employee contributes the most in the success and standing of any company. Thus, it becomes very important to recognize the best contributors and reward them on time. A study says, the happy and motivated your employees are, the best they gives in sculpturing the organization. Regular evaluation of the employee performances requires adequate systems which can set goals and monitor them as well.
Evaluate your strength and weaknesses
Define Measurable & Attainable Goals.
Create KRA, KPI & Competencies.
Assign & Monitor Employee Performance.
Self & Hierarchical evaluation.
Awards & Recognition.
Requisition (IT support tickets)
Requisition feature allows employees to raise queries and issues related to HR, Accounts, Admin or IT (network). Thus, acting as Help Desk center for in house work. The centralized system brings transparency to the resolution process and help monitor the overall work progress with respect to issues.
Raise Requests
Generate IT support ticket
Track status of tickets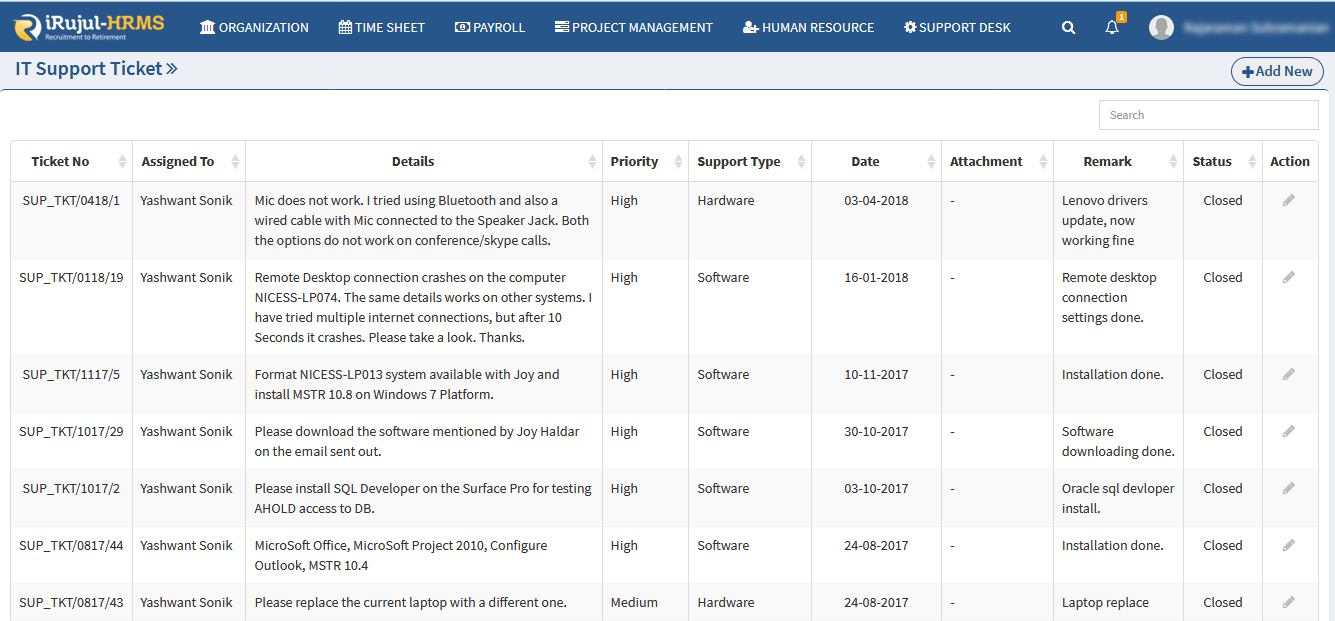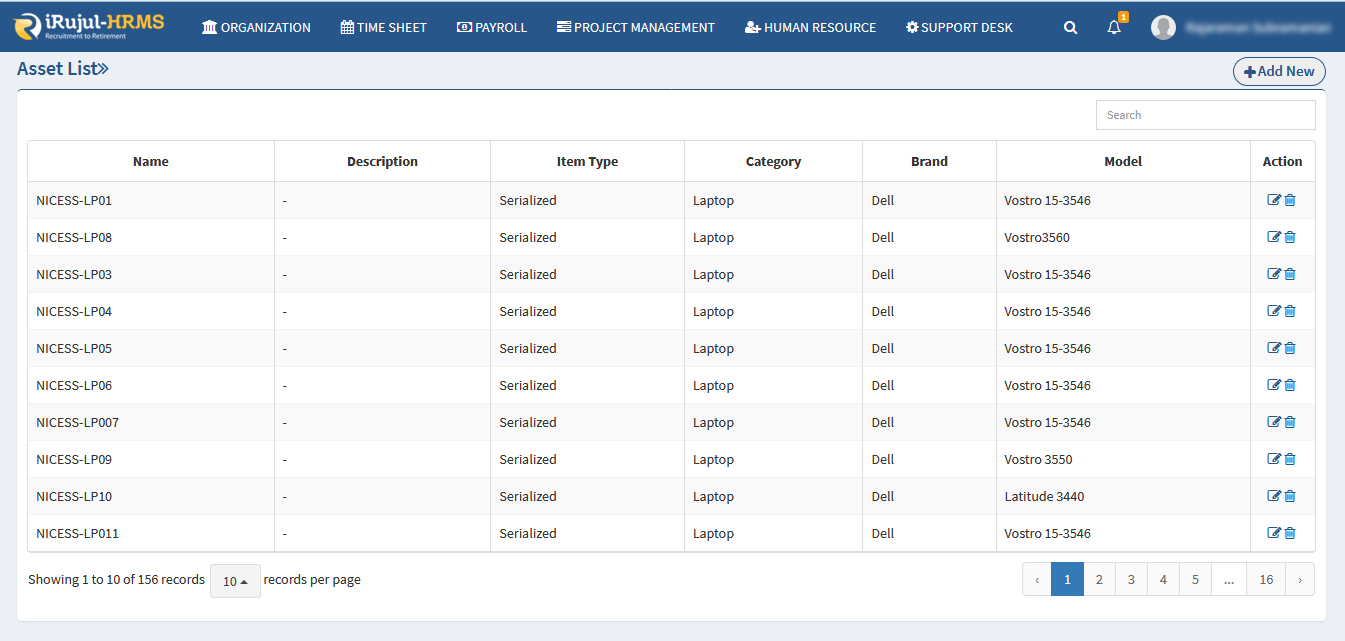 Procurement (Assets)
Procurement keeps track of all the materials which are purchased and assigned to the employees. This feature records materials purchased as assets and assign these assets to respective employees upon request. Employees can further return these materials to admin, after completing their usage.
Raise Material Requirement Request
Purchase Assets
Assign Assets
Return Assets
Knowledge Base and Forum
Knowledge Base act as a storage unit for the materials and documents which are shared among employees. The main purpose of this feature is to keep every employee informed with official updates announcements in the form of written documents which are made available globally.
And on the other hand, systems features a forum where employees can create a topic and discuss their views openly with others,
Search Documents
Post Topics
Add Comments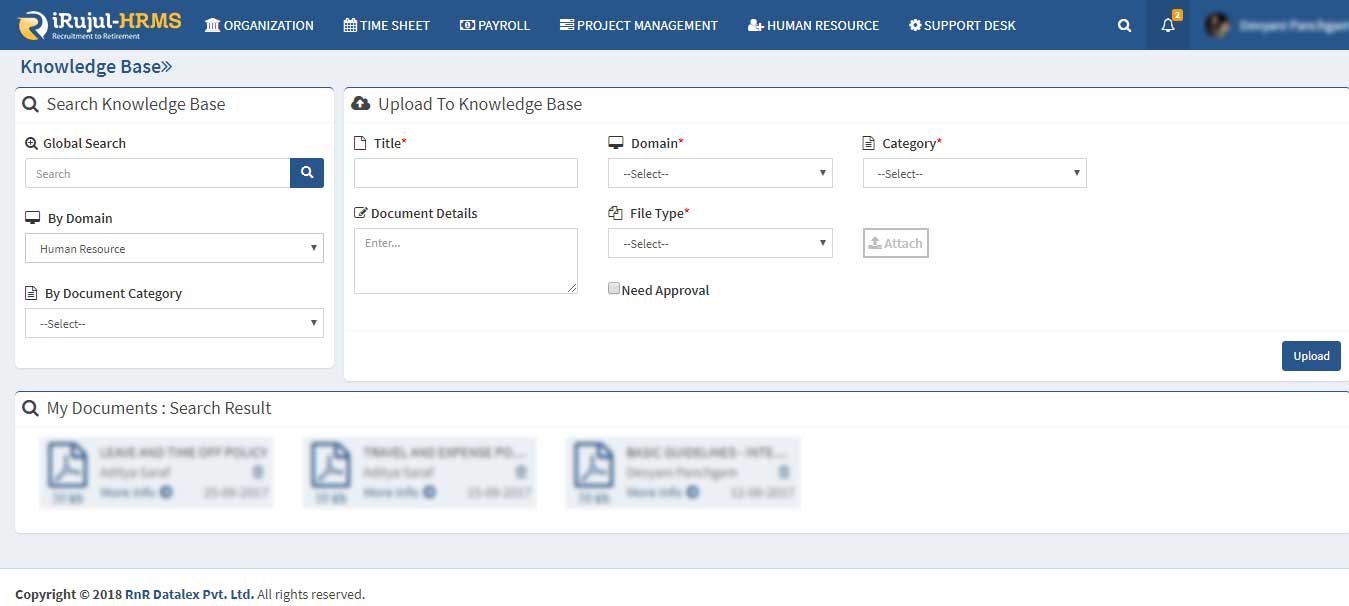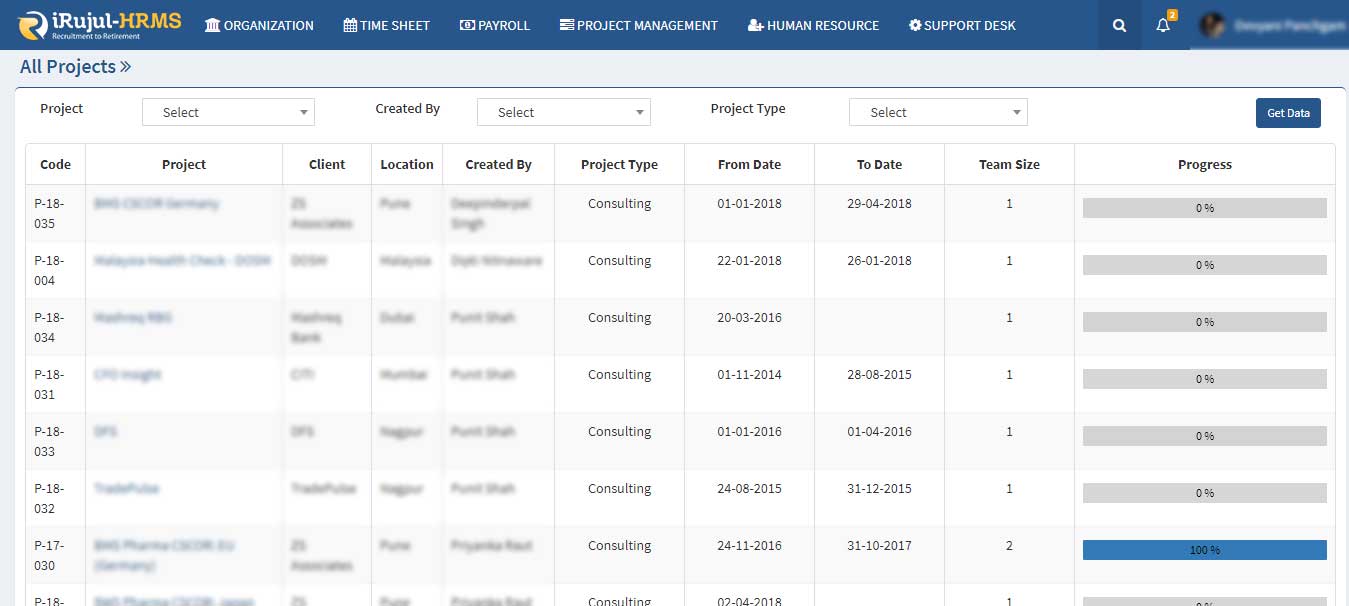 Project Management
For companies dealing in Projects and Assignments, it requires to keep track of their activities and relative information. Thus, Project Management helps in managing and assigning tasks to respective expert resources, Identify resource availability and track project status.
This module gives input to the employee performance evaluation feature where the tasks and activities clearly describes a person's contribution in the assigned work.
Create Project
Assign Resources
Create Tasks
Track Project Status
Mark Milestones